Leading chip design acceleration platform--MooreElite
The leading chip design acceleration platform - Moore Elite (MooreElite), successfully completed the A-round financing of 100 million yuan. This round of financing is jointly invested by funds controlled by Qing Ginkgo and Hefei High Investment.
busiMoore Elite is the leading chip design acceleration platform, vision "Let China have no hard-to-do chips", businesses includes "chip design services, supply chain management, talent services, incubation services", customers Covers 1,500 semiconductor companies and 500,000 engineers. Moore Elite provides ASIC design and Turnkey solutions for chip and system users, from Spec/FPGA/algorithms to chip delivery, including: chip architecture planning, IP selection, front-end design, DFT, verification, physical design, layout, tape, Packaging and testing services, etc.; and support Turnkey, NRE, professional consulting and resident multiple service modes. Moore Elite currently employs 200 people worldwide and is headquartered in Shanghai with branches in Beijing, Shenzhen, Hefei, Chongqing, Suzhou, Guangzhou, Chengdu, Xi'an, Nanjing, Xiamen, Hsinchu and Silicon Valley.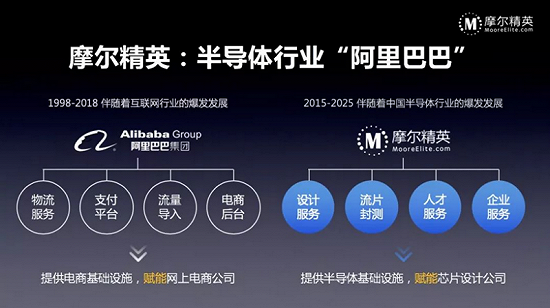 Moore Elite In the company's six years since its inception in June 2015, it has made many breakthroughs and has been recognized and supported by many industry customers, partners and investment institutions. In 2018, the overall revenue of the Moore elite is expected to exceed 400 million yuan. Moore Elite is committed to becoming the "Alibaba" of the semiconductor industry, creating a semiconductor infrastructure – solving customer R&D resource bottlenecks through chip design services, accelerating chip implementation; relying on the most comprehensive supply chain channels and resource integration advantages to protect customers' mass production; Talent and incubation services address the pain points of team building, company back-office and financing; let the chip design company focus on the core product definition and front-end design, and strip out the chip implementation, tape-seal and other aspects, by Moore Elite large-scale professional teams to deliver, division of labor to produce efficiency, scale to produce advantages. Looking to the future, the Moore Elite hopes to serve thousands of industry customers on the platform.At the same time, it will build a chip-accelerating eco-chain of interest-sharing and support fissile entrepreneurship of the order of billions of dollars.
The leader in semiconductor industry
Xie Jun, founding partner of Qingkong Ginkgo, said: "The Moore elite has been playing an active role in the Chinese semiconductor industry, supporting and helping chip design companies, especially small and medium-sized innovations and development. The young company brings together a group of experienced semiconductor talents, covering chip design, tape-out, package testing and other professional fields, and bringing exciting changes to the industry with its efficient, agile and innovative business model. Ginkgo controls the goals, business model and growth curve of the Moore elite, and we will do our best to help Moore go further and create value for the entire industry."

Hefei High-tech Zone Semiconductor Investment Service Bureau Leader Said: "At the beginning of 2018, Moore Elite participated in the integration of 20 integrated circuit industry projects in Hefei High-tech Zone and landed in Hefei. The high-tech zone witnessed the rapid development and strong execution of Moore's landing, and passed the public platform such as chip design and recruitment training. Service helps local enterprises to develop and become the backbone of the development of the integrated circuit industry. We look forward to the future Elite has come a long,And play a positive role in promoting the entire industry. "There is a leading insight, successful experience and extensive resources of Ginkgo in the field of semiconductor investment, which will provide important support for Moore's professional capital operation," said Zhang Jingyang, founder and CEO of Moore Elite. Mr. Xue Jun has successfully invested in several top chip projects such as Zhaoyi Innovation and Ziguang Zhanrui in the past, helping many enterprises to achieve steady development and climb to new heights. Hefei has achieved very brilliant achievements in the development of this round of integrated circuit industry; Hefei Municipal Party Committee and Municipal Government and High-tech Zone Management Committee have also greatly encouraged and supported the Moore elite. I am very grateful to the investors for their trust and recognition of Moore's vision to help China's chip industry; Moore Elite will also take advantage of clearing Ginkgo and Hefei high-tech resources in the upstream and downstream of the integrated circuit industry to accelerate the distribution of semiconductor professional services around the world.

We believe that future social progress and technological innovation will be led by "long-board companies" focused on core technology research and development. On the semiconductor infrastructure that Mooreelite is constantly striving to build, hundreds of chip design companies don't have to spend too much resources to "fill the short board", but instead focus on making their longboards longer and more advantageous and stronger."

Moore Elite, there is no hard-to-do chip in China.

Today, we are one step closer to the goal.